Cultural Travel - Georgia
Cultural Travel - Georgia is the family company of Tamar Lomidze, Georgia and Svend Waage, Norway. We have been living together in Georgia for the last decade, experiencing the beauty of Georgian tradition and culture. We offer a unique possibility to experience Georgian culture and tradition from inside. Contact us
Our services
Our service is tailor-made and we find unique solutions for each individual and group.
Tour- samples l Culture in depth
Special tours l Other services
"Thanks for incredibly exciting days in hospitable Ge- orgia, guided by the small world best travel agency".
"The feeling of getting on the inside of Georgia was absolutely unique".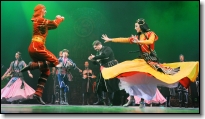 Tamar and Svend

Promoting Georgia

Presenting Georgian culture in Norwegian national TV.

Teaching Georgian folk songs to children.

Presenting Georgian poetry, fairy-tales and legends.

Featuring Georgian culture in Georgia and abroad.
Award

10.10.13 the Georgian President Mikheil Saakashvili awarded the medal of Civil Sacrifice to Svend Waage for his contributions to the Georgian folk song tradition.
Georgia in Caucasus
Georgia is located on the historical Silk Road at the borderland between Europe and Asia, surrounded by the Black Sea, the Great Caucasus Mountains and the countries Armenia, Azerbaijan, Russia and Turkey.. You can experience the astonishing nature, culture and tradition of one of the most ancient civilisations in the world. Wine, Orthodox Church, folk music, folk dance, table-tradition and immense hospitality are parts of the ancient Georgian culture and tradition. Georgia remains a unique source for uncovered treasures and special experiences.
"For once someone has drunk from the Kura River, he will always long to go back to Caucasus... for I've drunk from the waters of Kura River". Knut Hamsun
"It is the wonderland of Eastern Chivalry, famous for it's dauntless warriors, it's courtly men, and it's beautiful, stately women". Fridtjof Nansen