Tour 3: Treasures of Caucasus
Duration: 7 days between arrival and departure at Tbilisi airport
You will first be introduced to the capital Tbilisi, a cultural crucible with a population of different cultural, religious and ethnic background. We will reveal for you the contrast between old and new, between heritage and tradition on the one side and modern life style and globalization on the other. At the same time you will experience Tbilisi as the significant cultural and social center it has been through history, located on the crossroads between Europe and Asia. You will breath the atmosphere of Tbilisi in the old part of the city or along the main Rustaveli Avenue, and experience the amazing cultural heritages like the Sioni and Anchishkhati churches, the sulfur baths, the fortress of Narikala as well as museums and galleries.
The second day we will head for the main goal of our exploration: The very remote mountain-region of Svaneti with it's ancient tradition and culture. The region is located in the north-west of the Caucasus mountains. We will visit Mestia, the center of the region, with the significant Svanetian towers, the house-museum of one of Georgia's most famous mountain-climbers, explore Svanetian carpenter-tradition and visit the Mestia Historical-Ethnographic Museum.
The trip will continue to the remote village of Ushguli, Europe's highest located village (2400m) with permanent settlement. Approaching Ushguli is like traveling hundreds of years back in time, with an astonishing nature and view at the foot of Georgia's tallest mountain Shkhara. Here we will remain for a couple of days getting close to the village life, doing mountain-excursions accompanied by horses, and visiting the church of Lamaria, the tower of King Tamar, the Ushguli historical museum and other cultural and historical sites.
Returning back to Tbilisi we will be heading north, initially following the military highway towards the Caucasus mountains. We will turn off from the highway and approach the remote mountain-area of Khevsureti. There we will visit the medieval stone-village of Shatili, which historically both was a residential area and fortress protecting the outskirt area of Georgia. Shatili is located a few kilometers from the border to Chechnya.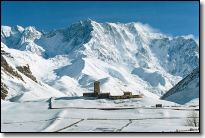 Lamaria, Ushguli and the mountain Shkhara. Photo: Gia Chkhatarashvili©all rights reserved
The medieval stone-village Shatili, Khevsureti. Photo: Babua Aludauri © all rights reserved.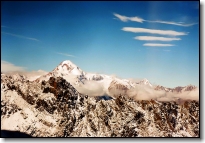 The Great Caucasus Mountains.
Photo: Babua Aludauri © all rights reserved.