Tour 2: Monuments of history
Duration: 7 days between arrival and departure at Tbilisi airport
You will first be introduced to the capital Tbilisi, where you will experience the significant cultural and social center that Tbilisi has been through history, located on the crossroads between Europe and Asia. You will breath the atmosphere of Tbilisi in the old part of the city or along the main Rustaveli Avenue. Focus however will be on the historical monuments revealing the history of this city, like for example the church of Anchiskhati, one of the oldest churches in Georgia, the Narikala fortress, the sulfur baths revealing the history behind, and the Mtatsminda Pantheon where the most prominent Georgian poets, artists, politicians and other profiles are buried.
Next experience will be Mtskheta, the historical capital of Georgia located at the meeting point of the rivers Mtkvari and Aragvi. The UNESCO heritage sites Svetitskhoveli and Djvari are situated here, and are two of the most significant churches in Georgian Christian history. We will also explore the Shio-Mghvime Monastery, a historical site where Shio, one of the 13 Assyrian fathers, during 6 years were living in a cave for praying and contemplation.
Heading west and south we will first make a stop for the Stalin Museum in Gori and then for the Uplistsikhe close to Gori. Uplitsikhe is a town of caves hewn out of rocks, and one of the oldest historical urban settlements in Georgia. Passing through Borjomi area rich on mineral waters, we will visit the place Likani which was King Romanov's palace and later Stalin's summer residence. Our final approach on this stretch will be the cave complex of Vardzia, located in the south of Georgia close to the Armenian border. This is an astonishing monument from the 12th century, representing a peak of Georgian medieval civilization. King Tamar founded the complex in 1185 as a protection from the Mongols, able to house thousands of people in a thirteen store complex.
The Kakheti-region is the main area for wine-cultivating. We will visit the Tsinandali Estate of Alexander Chavchavadze, and the fortress of King Erekle, who in the 19th century settled an alliance with Russia to protect Georgia from neighboring conquerors. Approaching the picturesque city of Sighnaghi, a cultural center in the Kakhetian region, you will have an astonishing view towards the Caucasus mountains. The Bodbe Monastery is located close to Sighnaghi, and is the resting-place of St. Nino, the woman bringing Christianity to Georgia. Her tomb is still shown in the church, and for Georgians this is a place for prayer and contemplation. Finally we will approach the David Gareja church and cave complex, remotely located in a semi-desert area in the south part of the region Kakheti.
Old Tbilisi and the Narikala fortress. Photo: Levan Chkhatarashvili © all rights reserved.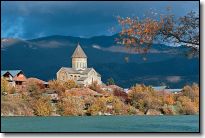 Svetitskhoveli in the city of Mtskheta. Photo: Gia Chkhatarashvili © all rights reserved.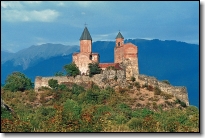 Gremi Monastery in Kakheti. Photo: Gia Chkhatarashvili © all rights reserved.